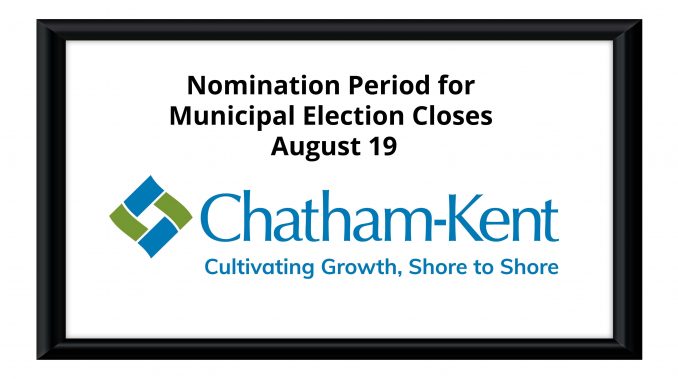 The Municipality of Chatham-Kent would like to remind Municipal electors that the nomination period for the 2022 Municipal Election will close Friday, August 19, 2022 at 2:00pm.
Nominations are to be in the prescribed forms and may be filed with the Municipal Clerk by appointment only.  The nomination form must be signed by the candidate and be accompanied with 25 endorsement signatures.  
A nomination filing fee of $200 for the Mayor position and $100 for Councillor or School Board Trustee positions must accompany the nomination forms.  Fees are payable by cash (including debit), certified cheque or money order. The fee is refundable if a financial report is returned following the election.
Nomination papers may be obtained online or at the Civic Centre, 315 King St. W, Chatham or any Municipal Centre.  For more information on offices where nominations may be filed, please visit www.chatham-kent.ca 
Until candidates file a nomination, it is unlawful to raise campaign funds or incur campaign expenses.
Inquiries and request for appointments may be directed to 360-1998 or email ckelection@chatham-kent.ca 
Judy Smith, Clerk / Returning Officer