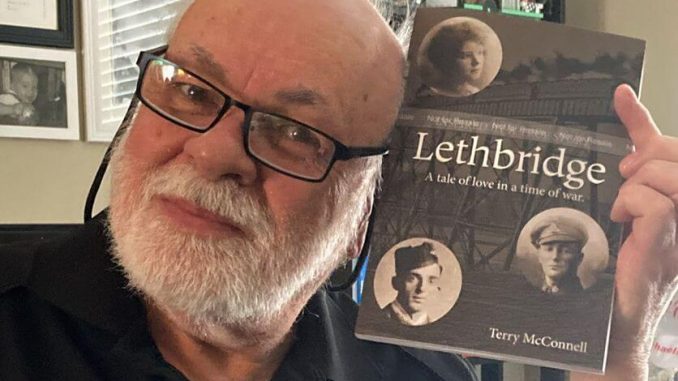 Staff Report
A Tilbury native who is now a published author is getting encouraging reviews and reader responses for his latest book – a book inspired by a true story about his family.
The book is titled Lethbridge: A Tale of Love in a Time of War, and the author is Terry McConnell, who grew up in Tilbury, and returned to his hometown in the 1970s to be editor at his father's newspaper, the Tilbury Times. He was later the publisher of the Times and the former North Essex News in Belle River, and was the founding publisher in the 1990s of Shoreline Week in Tecumseh.
Lethbridge pre-dates all that, however. "It's a love story set against the backdrop of the First World War, unfolding in disparate locales, from London to Boston, from Maine to Niagara Falls, from the trenches of wartime France to the military hospitals of England," says McConnell. "Even Comber puts in an appearance." Yet the lives of the book's three protagonists come together in one place: the frontier western city of Lethbridge, Alberta.
"It's the story of two young men who would become my grandfathers," says McConnell. "One was from the east end of London and the other from Maine. Both come to Lethbridge in search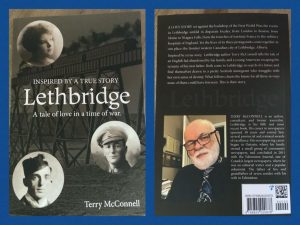 of a future and find themselves drawn to a pretty Scottish immigrant – the woman who would later be my grandmother – and what follows charts the future for all three in ways none of them could have foreseen."
McConnell says he is gratified to see that published reviews of the book and reader comments sent to the book's website have so far been nothing short of "amazing."
"I don't often write book reviews and just as rarely do I give a book five stars. It's got to be a standout. Terry McConnell's 

Lethbridge 

is just that and one of the best stories I've read in a long time," reads one published review.

"Terry McConnell knows how to tell a good story," reads another.

"

I loved it. I sat down to read it and I didn't stop until I had finished," writes one reader. "I couldn't let it go. I caught myself with tears in my eyes many times."

"This is a fantastic book," another reader writes."
Lethbridge is the fifth book for McConnell, who was an editorial writer and popular columnist for the Edmonton Journal after leaving Tilbury. His first book was I'd Trade Him Again, about another former Tilbury resident, Peter Pocklington, the one-time owner of Westown Ford in Tilbury and later the owner of the NHL's Edmonton Oilers.
McConnell, who still has family in the Tilbury area, says Lethbridge is considered historical fiction, but the truth behind the story is ever-present. "These are real people, and what happens to them is what happened," he says. "The lives they led is what made for a great story."
Lethbridge: A Tale of Love in a Time of War is available in paperback and e-book on Amazon.ca and Google Play (just type "Terry McConnell books" in the search field). It's also available at the online stores of Analog Books in Lethbridge (analogbooks.net) and Audreys Books in Edmonton (audreys.ca). An audiobook is also being produced and will be available for online orders.
Excerpts from the book, a photo gallery, and more can be found at the books' website, lethbridgetale.com.