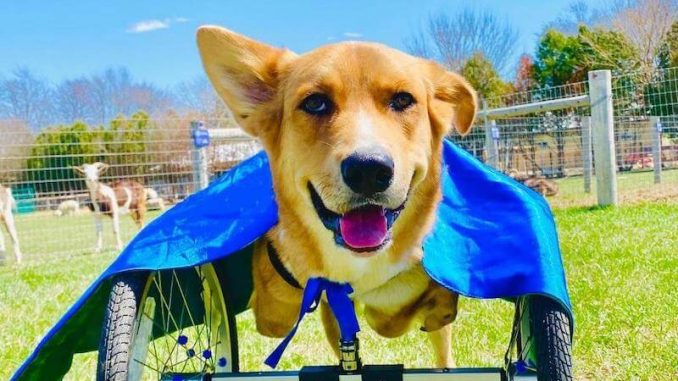 Matt Weingarden – Tilbury Times Reporter
Charlotte's Freedom Farm is celebrating Winnie turning one on May 14th with a super-hero themed birthday party event that will be fun for the whole family. 
When Winnie first came to the farm in the summer of 2021, he had no idea he would become an internet famous pup and an inspiration to all who meet him. 
Winnie arrived at Charlotte's Freedom farm when he was about 6 weeks old. Winnie was born with some deformities. This is due to some parts of his body not developing properly when he was in the womb. Winnie's front legs are deformed, and he is missing most of his sternum. However, this doesn't stop him from getting around and living life to the fullest on the farm. He has a custom wheelchair and a nub cover for one of his front arms so that he can run around and play with all his friends on the farm. 
Winnie has gained worldwide attention online. He has over 20,000 followers on Instagram (@winnie_the_roo_), and over 1 million views on a video he was featured in on The Dodo's YouTube channel. 
Charlotte's Freedom Farm is celebrating Winnie turning one on Saturday, May 14th by hosting a super-hero themed party. 
There will be a bouncy castle, super-hero sumo suit wrestling, an inflatable soccer game, snacks, and more. This is a chance for families to come out and visit the farm, all the animals and have a great time supporting the sanctuary.
Tickets are $10 each and are available on the farms Eventbrite page at https://www.eventbrite.ca/o/charlottesfreedom-farm-19930384894. 
Charlotte's Freedom Farm is an animal sanctuary in Dresden, that is home to over 100 rescued animals including  many kinds of farm animals, dogs and cats. 
You can follow along for daily updates on Facebook (Charlotte's Freedom Farm) and Instagram (@charlottesfreedomfarm).