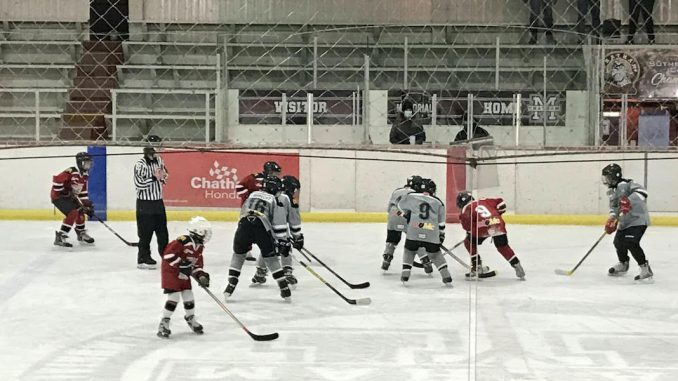 By Nancy Meredith
The last couple of years has been difficult on everyone, especially kids who depend on sports for physical and mental health.
However, we're happy to report that the kids are back on the ice.
Especially, the U11 Kent Minor Cobras.
 Recently, the Red and Grey teams faced each other in a battle on the ice.
The Red team is a very strong contender, lead by goaltender Trevor Flaubert (#29), who played a fantastic game.
  In the first period, the Red squad scored four goals before Ryker Fitch (#11) scored for the Grey. At the end of the first the score was 5-1.
 The second period grey goalie Lincoln DeMaeyer (#7) was spectacular in net, shutting down the Red's.

In the third, both Lincoln and Trevor made key saves in a back and forth shoot out. Mid way through the third period Grant Libbrecht (#16) buried the puck deep into the net and at the end of the game the final score was 8-2.
 Parents from both teams were excited to see the boys back on the ice and wish them all the best this season.
"Way to go guys, you've had lots of down time but you all played great." 
Give hope. Inspire. Change lives. Share Your story today.
We know you have a story that will inspire and uplift people worldwide. You can share it with our readers. We want to know what you think. Take a moment, subscribe to our newsletter, share your comments on Twitter, Facebook, Instagram using #TheTilburyTimes, or send your thoughts to contact@tilburytimes.ca, and we'll share it with our readers.