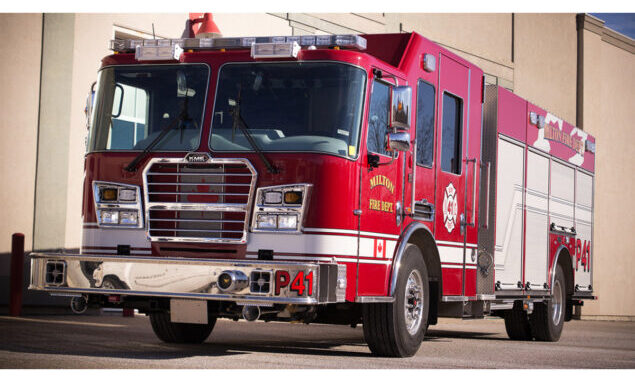 The Town of Milton is pleased to welcome Peter Gatto as Milton's new Fire Chief starting Aug. 17, 2020.
Gatto joins Milton with over 30 years of experience in the fire services and has served most recently as Deputy Chief for Brampton Fire and Emergency Service. He brings long term operations experience, and proven leadership in the areas of health and safety and labour relations, to participating and advising on several provincial and regional committees.
"On behalf of Council, I am pleased to welcome Peter Gatto to his role as Milton's Fire Chief," said Mayor Gord Krantz. "As Ontario's fastest growing community, our fire protection and emergency services are critical to community safety and he will join a team that has delivered high quality services to Milton."
"Peter brings with him a tremendous amount of experience," said CAO Andrew Siltala. "In addition to that experience, his values, philosophy, and vision of a fire service align with Milton's commitment to innovation, inclusion, and technology. We are thrilled to welcome Peter to Milton."
"I am extremely excited to assume the role of Milton Fire Chief," said incoming Fire Chief Peter Gatto. "I have a strong value of community safety with an emphasis on fire safety education, prevention and firefighter wellness. I am drawn to Milton as it is a rapidly growing and active community surrounded by many conservation areas and the Niagara Escarpment."
The Town of Milton, Council and staff are grateful for the commitment and leadership of Acting Chief Kevin Foster. His sound guidance and leadership as the Acting Chief, and as the Community Emergency Management Coordinator, has been critical in Milton's COVID-19 response to date. Foster will return to his prior role as Deputy Chief for Milton and continue to provide leadership to the service.
The Town of Milton's Fire Department has served the community for over 150 years. The Department is made up of full and part-time staff providing 24 hours a day, seven days per week, fire protection and emergency services.