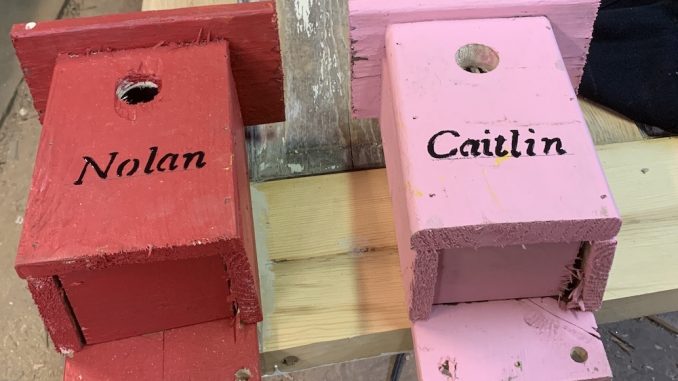 By Caitlin Kelly / Special to the Tilbury Times Reporter 
Driving up the laneway of the Tremblay farm, located at 5525 Lakeshore Road 302 in Point-aux-Roches/Stoney Point, the large barn-style workshop comes into view with the Tremblay crest proudly displayed and rows upon rows of bright, colourful birdhouses ready to seek their sponsors.
These birdhouses were hand-crafted by owner David Tremblay and his assistant Shelby Kemp, as a part of an Earth Day event to support their reforestation project and passion for spreading awareness and knowledge about the environment. 
This year, the theme for Earth Day is "Invest in the Planet" and David and Shelby are inviting the community to attend the farm and learn how they are achieving that goal.  
The Tremblay family farm was purchased in 1927 by David's grandfather, who had gained much experience as a young boy working on his own father's farm down the road. 
At present, David's grandchildren are the sixth generation able to enjoy the family farm. Much like his own father, David recalls his fondest memories involve the sharing of knowledge passed down from his father and grandfather.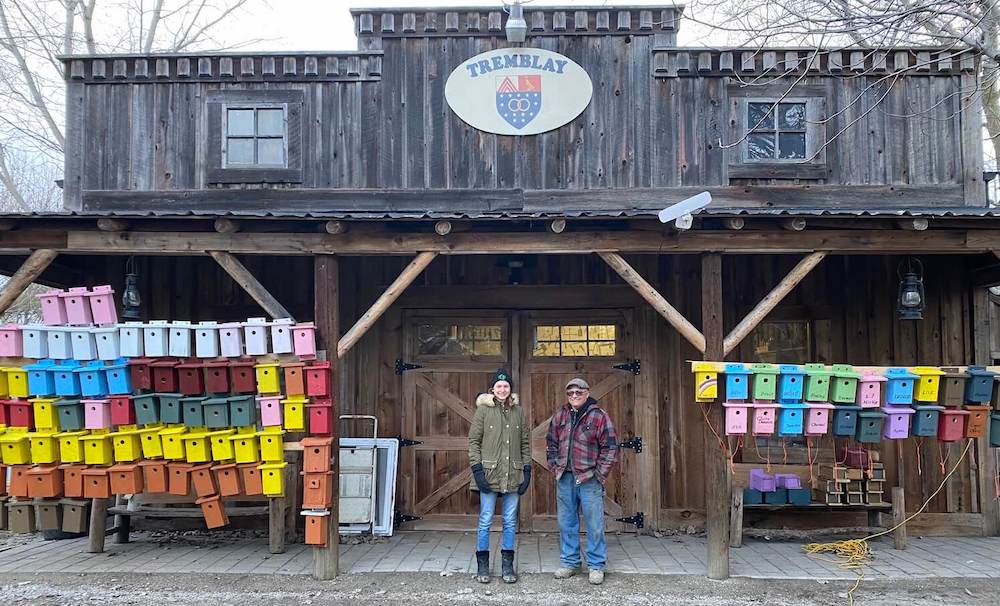 This, as David explains, is the "heritage of farming", stating he wishes he "could have soaked up even more information that he could in turn pass along to future generations." 
The farm was initially intended for farming crops such as wheat and soybean, along with raising animals including pigs, chickens, and wild turkeys, though today only animals remain. 
Belle River residents no doubt remember the beloved 'Tommy the Turkey', a local legend of sorts. Today, Tommy's relatives can be found at Tremblay Farm – when they are not at Thiessen's Apple Orchard.
David's grandfather, like many French-Canadian farmers at the time, was tasked with clearing the farm of trees and wetlands in preparation for harvesting the land.
Today, the nearly 100 acres of farmland are in the early stages of a return to their natural state. In the 1970's David indicated his father began researching soil conservation and wind erosion. 
As his knowledge increased, he realized 'wind rows' of cedar trees along the southwest side of the farm could protect the soil from eroding. These trees remain standing, protecting the farmland for over 50 years. 
Reminiscing about his days as a young boy working with his father on the farm, David recalls the most important message was "a good farmer will leave the land in a better state than they found it." 
It was this lesson that inspired David's mission to, with his father's blessing, reforest the land upon taking over the operation. 
David indicated this reforestation was a family decision and acknowledged that not all farms are able to reforest – as many farmers earn their livelihood through growing and selling their crops. 
As David describes it, this project is helping to recreate a balance between nature and development within their community. Additionally, this project provides an important opportunity for education, involvement, and partnership.
With this opportunity in mind, the idea is to plant as many trees as possible on the land. He described the early days of reforestation involved engaging the next generation of Tremblay's, local volunteers, David's previous students, his children, and grandchildren. In the last few years, David has become more ambitious, partnering with Essex Region Conservation Authority (ERCA).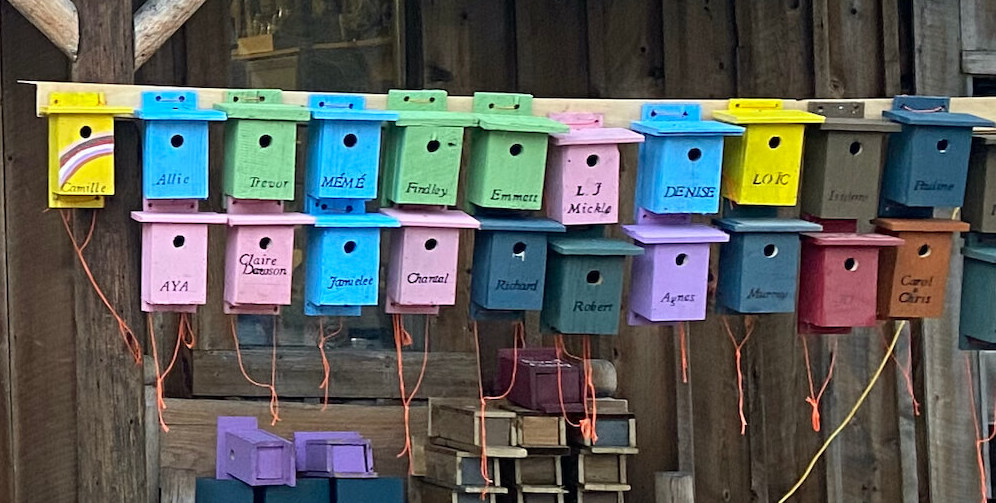 Last year, ERCA planted eight acres of native hardwood trees. This year, David has increased his goal with ERCA planting an additional ten acres of trees on the property. Additionally, David has partnered with Ducks Unlimited and the Climate Change Canada initiative Species at Risk Partnership on Agricultural Lands (SARPAL), who will be creating three new half-acre wetlands on the farm. 
Another opportunity for collaboration arose with ENGIE Canada Inc., a leader in low-carbon energy solutions whose mission includes shaping a sustainable future, with a goal of reaching Net Zero Carbon by 2045. 
One of ENGIE's local wind farms has 27 wind turbines installed at the Point-Aux-Roches location. These wind turbines on the property are part of the many renewable energy projects in their global portfolio. ENGIE Canada Inc. has generously agreed to sponsor the Earth Day event, where attendees can observe the turbines and discuss renewable energy. 
Although Tremblay Farm was able to obtain partnerships and grant money to support the reforestation, there is still an out-of-pocket expense. As a way to raise funds and more importantly awareness for significant environmental issues, David came up with the perfect fundraising idea – he started making birdhouses out of reclaimed wood. 
For $10, individuals have the opportunity to sponsor a birdhouse – personalized with the name of a loved one to be placed on the farm – or for $20 they can be taken home. 
These birdhouses increase habitat for local birds, especially the at-risk eastern bluebirds that are known to provide excellent mosquito control. 
The first phase of the birdhouse fundraiser began at the beginning of the pandemic, calling on friends, family, and former students to participate. In the first summer of this fundraiser, David painted and personalized 100 birdhouses. 
Describing his daily walks around the trails around the property, he reported feeling emotional seeing the names of loved ones and past students located throughout the farm. 
Another benefit that came out of David's walks, was his partnership with Gr. 9 student Shelby Kemp. 
Shelby and her mother, along with many members of the community, would take walks on the farm to enjoy the fresh air and tree-lined property. Shelby would talk to David about her interest in nature, trees, woodworking, and foraging and offered a helping hand if David ever needed assistance.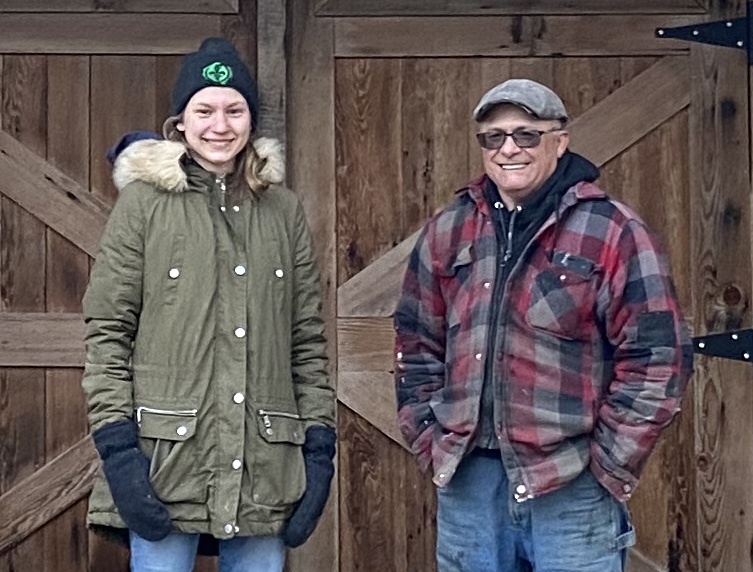 This winter, David took Shelby up on her offer and she began helping with projects around the farm. Along with building a greenhouse, woodworking projects and hatching chicks, Shelby began building and painting birdhouses. 
The pair announced their goal was to surpass the first phase total of 100 birdhouses. During this undertaking, David recalls talking for hours with Shelby about the importance of taking action for the environment, both parties learning from the experience of the other. 
Together David and Shelby have built over 150 bright and beautiful birdhouses. David indicated 50 of the birdhouses have already been sponsored, ranging from memorials for grandparents, to celebrations of new grandchildren.
How you can do your part: 
With 100 birdhouses remaining, the Tremblay family is inviting the public to attend the farm, located at 5525 Lakeshore Rd. 302, on Earth Day, April 22 between 9 a.m. and 9 p.m., to sponsor a birdhouse and learn about important environmental initiatives. 
Individuals interested in sponsoring a birdhouse are encouraged to call Tremblay Farm at 519-798-3675 prior to the event to have the customization completed in advance where possible. 
As part of this event, David advised there will be educational stations set up to provide information about the habitat, the reforestation project, the history of the farm, and the wind energy initiative. 
During the event, there will also be tastings of the maple syrup sourced directly from trees on the farm, hot linden and rosehip tea gathered from seeds and hips on the property (a specialty of Shelby's), and free seedlings for those interested in planting trees on their own property. 
David and Shelby's enthusiasm about environmental action is palpable when speaking with them and they are delighted to extend this invitation to the community as an opportunity to increase awareness and encourage action. 
David shares the farm has always been a gathering place for friends and family and this Earth Day they are "looking forward to receiving many friends at the farm, both new and old."
The Tremblay family is inviting the public to attend the farm, located at 5525 Lakeshore Rd. 302, on Earth Day, April 22 between 9 a.m. and 9 p.m., to sponsor a birdhouse and learn about important environmental initiatives.