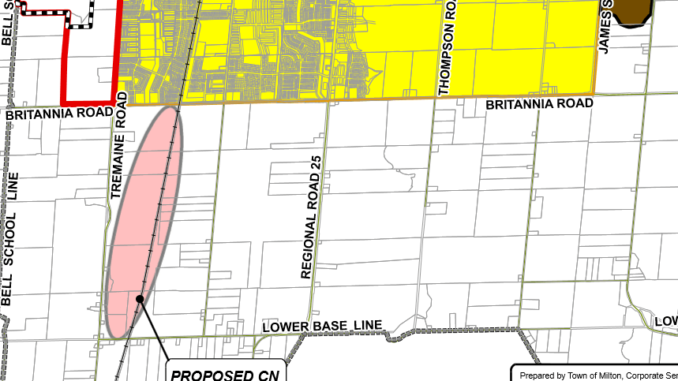 By: Laura Steiner
The Region of Halton is urging the federal government reject the proposed CN Intermodal project in Milton.  A statement signed by the four mayors, and Regional Chair Gary Carr was released Friday.
The move comes in response to comments made during September's Throne speech to put the health of Canadians first.  "The local neighbhourhood has grown to a community of approximately 34,000 current and future residents, one hospital, 12 schools, and two long-term care homes within 1km of the proposed site, and still greater populations beyond 1km," the statement said.
The neighbourhood is Boyne survey, which, runs along the north side of Britannia Rd. The complex is planned for a 400 acre site along the south side of the street across from the residential area.  Numerous environmental, safety, and health concerns have been raised since the Intermodal was first proposed including the effects of light pollution, environmental, and safety concerns through traffic on area roads.
The facility will allow for the transfer of goods between rail cars, and trucks for shipping to other parts of the country.  It was first proposed in 2015. Halton Region has challenged CN in court over jurisdictional issues. The Railway Act gives the company the right to build 100 acres to either side of the rail tracks.  They have chosen not to seek planning permissions from the municipality as regulated under provincial legislation.
It has been going through the approvals process regulated by the Canadian Environment Assessment Agency (CEAA) which included public hearings held in the summer of 2019. "The federal government must put the health and safety of Halton residents first.  We strongly urge the Minister of the Environment and Climate Change and his Cabinet colleagues to reject the proposal," the statement ends.
A final decision on the project is expected sometime this month.
Update: 22/12/2020:  Decision Deadline Extended by 30 Days
The final decision on the CN Intermodal has been extended by another 30 days.  The announcement was made in a note on the Canadian Environmental Assessment Agency (CEAA)'s website.
"This delay is extremely frustrating to everyone involved. The Halton Municipalities, along with our local MPs and MPPs are united in our position this is not the right location for this truck-rail hub. It is time for the Federal Government to step up and make the right decision to protect the health and safety of our community by not approving the proposed CN project," Halton Region  Chair Gary Carr said in a statement.  The Region has been in strong opposition to the development based on health, and environmental concerns.