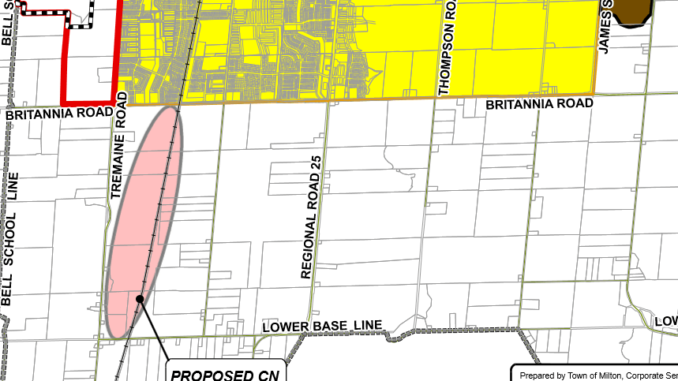 By: Laura Steiner, Editor/ Reporter
Halton Municipalities are calling on their communities to join together in order to urge the federal cabinet to refuse approval of CN's proposed Intermodal facility.
"It just doesn't make sense that a site of this scale, operating 24 hours a day, seven days a week should be built within one kilometer of 34,000 current and future residents, 12 schools, and two long-term care homes," Milton Mayor Gord Krantz said. The project is proposed for the Britannia, and Tremaine Rd. area, directly south of the Boyne survey.
CN first announced it in 2015, and has taken the approach that because they were in a federally regulated industry they did not need to seek local planning permissions. Instead they submitted plans through the Canadian Environmental Assessment Agency (CEAA). A panel released their report identifying adverse affects on residents and the environment. "If the federal government approves this project, they are sending a message that the health and safety of Halton residents is worth risking," Regional Chair Gary Carr said. The report also recommends 200 mitigation measures to avoid the effects, but the federal government is unable to enforce them.
Citizens' advocacy groups Milton Says No, and Milton Residents Against Intermodal Locations (Milton RAIL) have started an e- petition also urging cabinet refusal. Residents have an opportunity to sign that until August 17, 2020, and at last count is showing 2,965 signatures. The petition will be presented in the House of Commons by Milton MP Adam van Koeverden. A final decision on the CN Intermodal facility is expected by September 23, 2020.